My guide for you to watercolour brushes
Getting into watercolor is awesome! But what brushes are beste? What brush do you need? What is the difference between all the brushes and what about all the different kind of hairs? This guide will tell you the very basics of watercolour brushes. I will also let you know what kind of brushes I use and what my favorite brush is.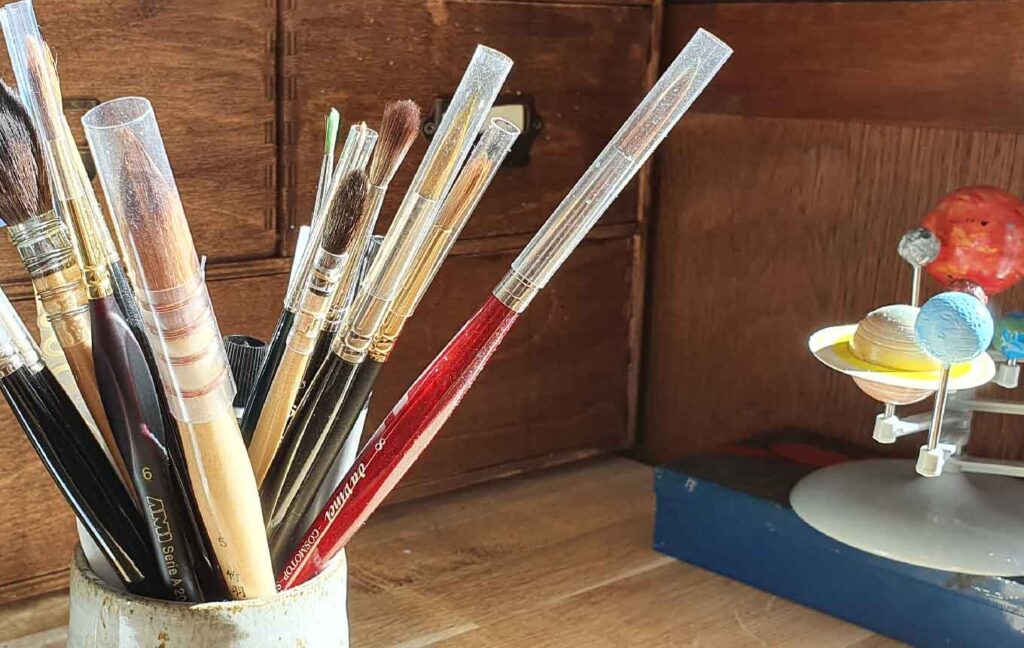 Round brushes
Probably the most common and must used brushes for watercolour. They are easy to use and you can make very thin strokes to pretty thick strokes. You can also use the round brush for consistant lines but you need a steady hand for it. The round brushes are also very usefull for detail work.
Flat Brushes
A flat brush is most common for use of large areas. You can cover areas quick and smoothly with a flat brush. You can also use the side of a flat brush for smaller lines but, again, you will need to have a steady hand.
Mop & Wash brushes
Ohh I love these ones! With those brushes you can cover large areas fast. The mop and wash brushes are know to hold a lot of water you you will be able to use them for a while. I love to swirl them around in a glass of water just to see how big they really are. The smaller brushes are also used for detail work, like leaves or even feathers.
Rigger brush
The rigger brush is a very thing brush with long hairs. This brush is commenly used for detail work like ropes or rigging on ships. Like the name would suggest.
Animal or Synthetic Hairs
Brushes made of animal hairs were considers the better brushes for a long time. However lateley the synthetic brushes arn't far from the animal ones. Many watercolour artists are going to the synthetic brushes. 2 main reasons I think are: 1 Money, because synthetic is way less expensive. And 2, animal crualty, I also use animal brushes but the more i think about it. the less I know about the brush and it's way on how he became a brush!
From the animal hair, Sable hair is probably the most expensive animal hair and is considered the ultimate. Sabel hair brushes are made from fur from, well, sable but it can also contains hair of minks, ferrets, or weasels. "Camel" hair can be from squirrels, goats, or a combination of different animals.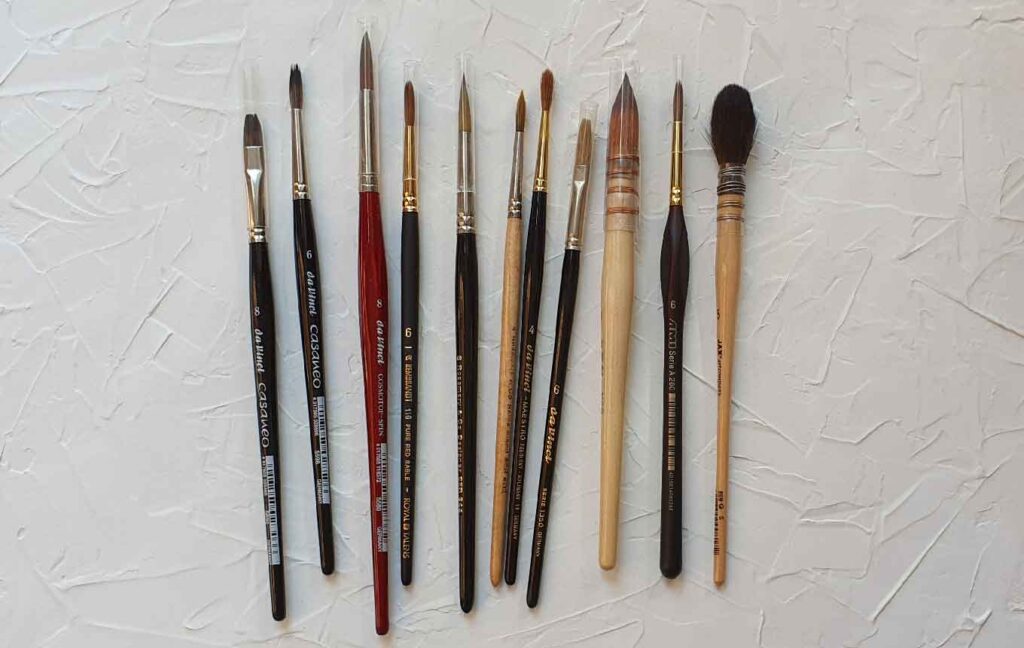 My 'To go' brush is…
My all time favorite brush is a brush from the brand Rosemary & co. The brush I always use is the Sable blend 402 size 4. I use it for smaller areas but also larger ones. I use it for detailing and landscaping. Because mostly I paint smaller things this brush is perfect for the items I paint. The one I use is actually a gift from a workshop I followed a while back. Before the work shop I did not even know about Rosemary and I always used Da Vinci brushes. I used Maestro, Cosmo-top, Casaneo and nova-synthetics. I also have one Rembrandt brush a 110 pure red sable, but I don't use this one that often.
What now?
Now it is time for you to decide what kind of brush suits you! Try some brushes and see what suits you!